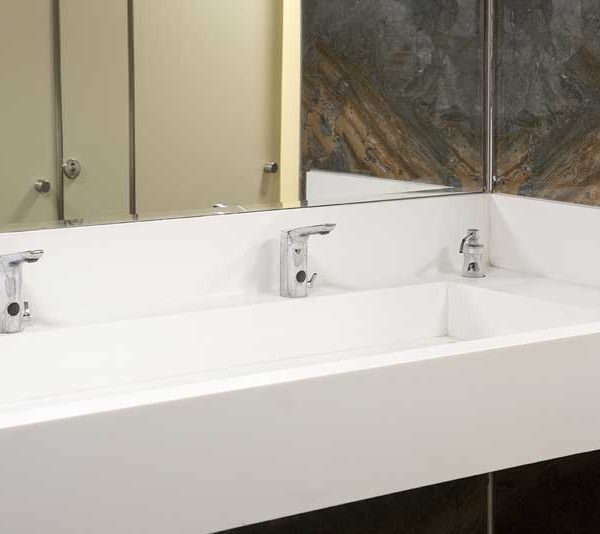 Invented in the 1960s, Corian is a high-tech material that's incredibly durable, versatile and easy to maintain. It has become more and more refined over the decades and is now found in kitchens all over the world. Elite Kitchens has been designing and installing Corian benchtop designs in local homes since the 1990s. Our clients continue to tell us that our work has lasted beautifully through the years, are you ready for your own beautiful benchtop?
A history of quality
Corian is created by DuPont, an American company founded in 1802. Two elements go into its making: acrylic polymer and alumina trihydrate, which comes from bauxite. When combined, these two substances create a material that's strong, resilient and resistant to all kinds of wear and tear, the ideal Corian benchtop! If damage, such as a burn, does occur, Corian can be fixed, so it looks as good new. Though Corian is heat resistant, so it's not something you'll have to worry about. Unlike with other materials, repairs can be made in situ: there's no need to remove the benchtop nor replace it. In fact, Corian is often compared to wood and many Corian experts start out as carpenters.
Although Corian is a human invention, it is non-toxic and environmentally friendly. Though Corian countertops are heat resistant, burning at any point doesn't create any dangerous gases and the manufacturing process involves minimal waste and energy use.
Colourful Corian benchtop designs
Another benefit is that a Corian benchtop offers plenty of options aesthetically. A wide range of colours are available, from solid shades to translucent hues. There's no need to stick to one colour, if you don't want to, you can invent bold combinations or use contrasting colours to create accents. Another possibility is adding splashes of Corian to other materials, such as stone or timber. While a Corian built-in sink complements the rest of your bathroom and brings your space to life. Interested in an additional splashback to complement your Corian benchtop? Our range of coloured splashbacks and mirror splashbacks can elevate your kitchen even further.
We're passionate about helping locals to design and create the interiors of their dreams. If a Corian benchtop is part of your vision or you'd like to learn more about other kitchen reno ideas, don't hesitate to get in touch.
Kitchens, Bathrooms and Bars Designed With You In Mind
For beautiful kitchens, bathrooms, in-home bars, entertainment areas and custom furniture designed for your specific lifestyle requirements, look no further than Elite Kitchens & Bars.