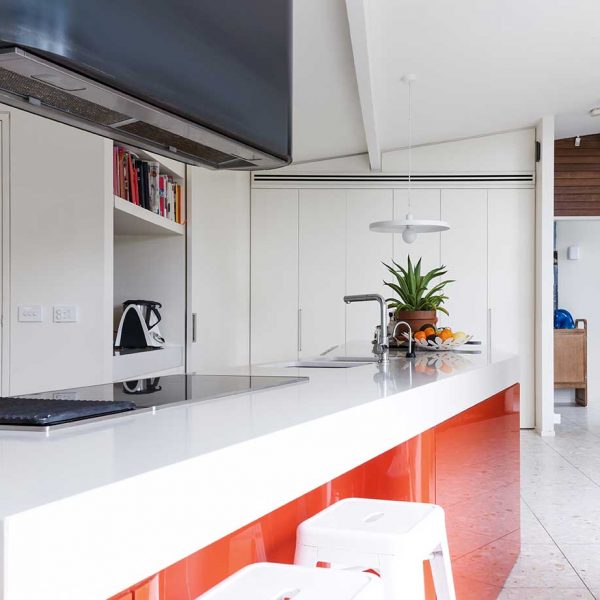 When you choose laminex doors, the possibilities are immense. There's an incredible variety of colours, textures and finishes to consider. In addition, laminex can be used in other aspects of your kitchen renovation, such as on wall panelling and benchtops. If you're looking for an affordable material that offers versatility and durability, then laminex might well be the best choice.
Versatile has a new name
Have you been struggling to find the right colour for your doors? This could be the end of your frustration. Laminex doors are available in no fewer than 170 colours. So, whatever your interior design, there's a shade to fit in seamlessly. Choices range from stunning Ash White and Black Marble to gentle Blue Oxide and Deep Sea to vibrant Posie and electrifying Sensation. Whether you're going for warm, natural shades; a cool, dreamy palette; or bright, dramatic colours, then you'll find them. If you need a hand finding your way through the Laminex collection, our designers are on-hand to help.
Would you like to add some texture to your doors? You might like to explore the Laminex Impressions range, which offers both woodgrains and solid colours. These give you the lovely feel and look of timber, but without the expense.
Endless Laminex door styles
Laminex doors come in a range of styles, to suit a variety of interiors. To combine affordability with style, choose FormWrap. If you're aiming at a contemporary look, then you might consider Square Edge Doors or Silk Finish, which add a touch of luxury with their glossiness. Meanwhile, Timber Veneer doors, which imitate wood, gives a classic appearance, and the Absolute Series is sleek and striking. Last but not least are the elegant ColourTech Painted Doors from Laminex – vibrant and unforgettable.
To find out more about Laminex doors and decide if they're right for your kitchen reno, please get in touch.
Kitchens, Bathrooms and Bars Designed With You In Mind
For beautiful kitchens, bathrooms, in-home bars, entertainment areas and custom furniture designed for your specific lifestyle requirements, look no further than Elite Kitchens & Bars.