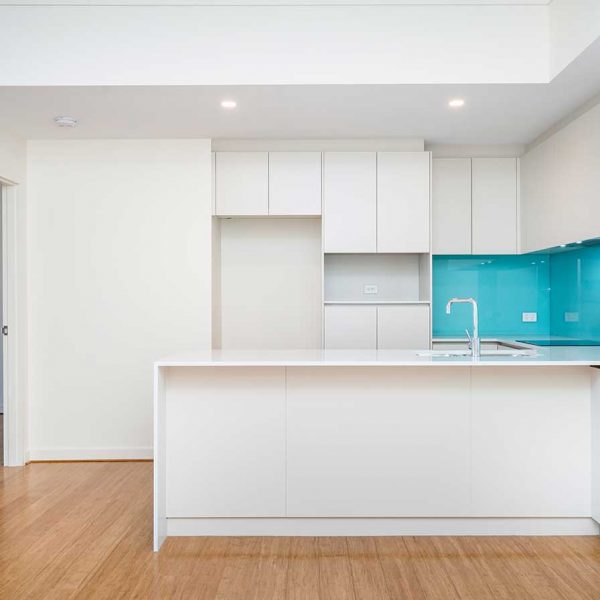 Generally speaking, there are two ways to think about coloured splashbacks. On one hand, you can choose a colour that stands out – one that works as an eye-catching statement piece. On the other, you can opt for a shade that blends in seamlessly with the rest of the interior. Whichever you decide upon, our fabulous design team are here to assist you. We'll make sure your coloured splashback is the perfect addition to your kitchen makeover or kitchen renovation.
Make a bold statement
Are you thinking about bold, striking coloured splashbacks? If so, the next step is to consider how it might affect the mood of your kitchen reno. While blues and greens have a cool, calming influence, reds and oranges tend to be warm and vibrant. Either is fine; just be sure you keen mood in mind when making your decision. If you're more interested in a less dramatic splashback, then you might like to contemplate subtle hues. Think greys, browns and silvers.
Remember, too, that a coloured glass splashback can interact with numerous elements in your kitchen design. Think beyond the obvious – such as benchtops and tiling – to smaller, yet important, features, including light fittings, door handles and furniture. When it comes to an outstanding kitchen reno, the details are just as important as the big picture.
Coloured splashbacks designed to last
When deciding on colour, you should also give some thought to materials. Glass is a popular choice for splashbacks because it's hygienic, easy to maintain and durable. Can you picture a rich, exotic black glass splashback in your kitchen? However, there are other options. The most important thing is to aim for a kitchen renovation that's going to keep you happy for years to come. To that end, we encourage you to research thoroughly and take your time, rather than jumping to final decisions. Should you need any help, we have a wealth of experience to share with you.
Would you like to learn more about coloured splashbacks? Here at Elite Kitchens, we're experts in them and every other aspect of kitchen makeovers. If you're looking for an outstanding kitchen renovation in Newcastle or a nearby locality, then give us a call today.
Kitchens, Bathrooms and Bars Designed With You In Mind
For beautiful kitchens, bathrooms, in-home bars, entertainment areas and custom furniture designed for your specific lifestyle requirements, look no further than Elite Kitchens & Bars.