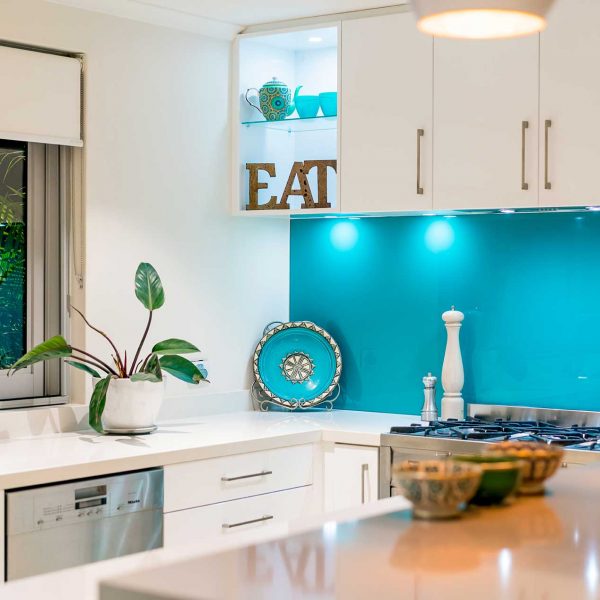 Printed glass splashbacks aren't just a splashback, they're an artwork. By choosing printed glass, you get to decide exactly what you'd like on your splashback, thereby creating a unique piece for your kitchen renovation or kitchen makeover. In addition, you can enjoy all the benefits of glass, which is a popular choice for splashbacks.
Style your own printed glass splashbacks
There's no doubt that printed splashbacks are a vital part of any kitchen reno. It takes up a great deal of space on the wall, so it should bear an image and design that you're happy to look at, whenever you're cooking, cleaning or spending time in the kitchen.
At Elite Kitchens, we pride ourselves on helping our clients to create magnificent splashbacks, which add to their kitchen makeover and enhance their lifestyle. If you opt for printed glass, we'll help you with the design process at every stage. The first step is to decide upon your print. Would you like stylish, subtle patterned glass splashbacks, to match other elements of the kitchen reno? What about something bold and unmissable, which is bound to brighten every day and inspire visitors to comment? How about a photo of a favourite place, person, pet or memory?
The creative kitchen choice
When it comes to printed glass splashbacks, the choices really are limitless. Whatever you decide, you can rest assured that we'll design and build a premium quality product that's bound to last. We love glass splashbacks because, not only do they look good, they're also durable, stain resistant and able to withstand a busy lifestyle. Many of the glass splashbacks we installed years ago as part of kitchen renovations in Newcastle and beyond look as good as new.
Get in touch today to learn more about glass splashbacks, to learn more about our full range of products, or request a free quote, no strings attached.
Kitchens, Bathrooms and Bars Designed With You In Mind
For beautiful kitchens, bathrooms, in-home bars, entertainment areas and custom furniture designed for your specific lifestyle requirements, look no further than Elite Kitchens & Bars.