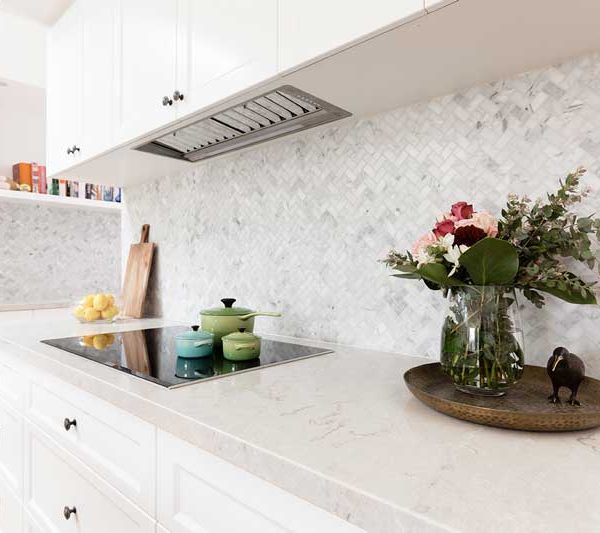 Stone benchtops add class and style to any home. There's simply no substitute for this natural material, which is eye-catching and beautiful, yet natural and inviting. In addition to its attractive appearance, stone is a dream when it comes to practical matters. Whether you're cooking, enjoying canapes or pausing for a glass of wine, you can count on stone's durability, resilience and low maintenance.
Eye-catching and long-lasting stone benchtops
Here at Elite Kitchens, we create a wide range of engineered stone benchtops, both on their own and as part of extensive kitchen renovations. Just some of the materials we work with include quartz, granite and Essa Stone (which is 95% quartz). Each offers various advantages. Quartz is one of the toughest minerals on the planet, so it doesn't scratch or break easily. Moreover, it's non-porous, which means that it's resistant to stains and the growth of bacteria. You and your family can cook, eat and spill things without having to worry too much, that's the benefit of a durable kitchen! Quartz is available in a range of gorgeous natural colours, including white, black, brown,grey.
Like quartz, granite is incredibly strong, resilient and non-porous, so it withstands stains and bacteria. It's definitely a material for a durable kitchen benchtop that will last you decades. A variety of colours is available and, being a medium grain, granite is visually striking.
A durable kitchen dream
Are you unsure of which stone to choose? We can help you decide. Would scissor stone benchtops suit your home? Or sleek, modern kitchen benchtops? Having built hundreds of stone benchtops in Newcastle and surrounds, we offer a thorough understanding of which materials are best for who. We can also assist you in designing your stone benchtop, ensuring that it maximises kitchen space and fits in with the interior design. We offer benchtops as stand-alone products or as part of kitchen makeovers and kitchen renos too.
Contact us today to ask questions or request an obligation-free quote for your next stone benchtop.
Kitchens, Bathrooms and Bars Designed With You In Mind
For beautiful kitchens, bathrooms, in-home bars, entertainment areas and custom furniture designed for your specific lifestyle requirements, look no further than Elite Kitchens & Bars.