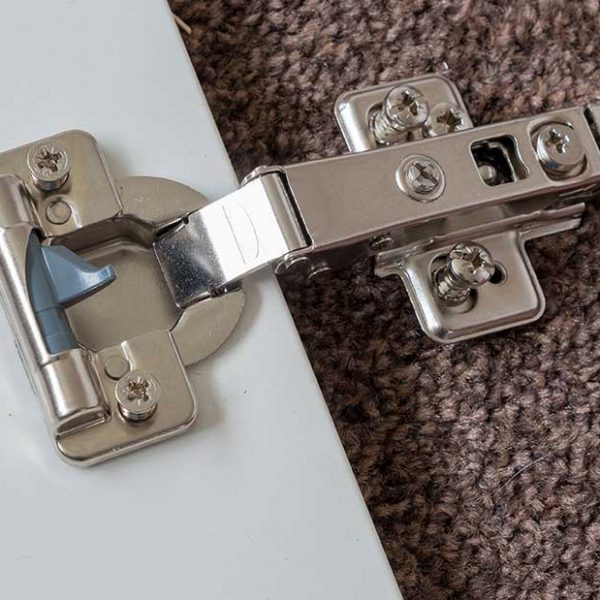 If you can't stand the sound of slamming doors or you've jammed your fingers one too many times, then soft close hinges could well be what you're looking for. These extraordinary devices make sure that your doors close softly, smoothly and silently. You can forget all about sudden, loud sounds and abrupt movements. That's why more and more people are swapping traditional hinges for these little beauties. Once you've tried hidden hinges, they're difficult to come back from. The best part is, no matter which of our range of door styles you opt for, we have hinges to match.
The science of soft close hinges
The reason soft close hinges work so well is that they contain a piston. You can't see it from the outside, but it's what makes them move so fluidly, without making a sound. Moreover, soft close hinges can be adjusted, allowing you to open and close them in the direction that suits you best, be that vertically or horizontally.
If this sounds like right for your kitchen, then we'll install them wherever you want them – from cabinet door hinges and cupboards to doors and bins. If you're not sure whether or not they're right for you, then we can discuss them with you and come up with the best solution. Other hinges on the market include the standard variety, which are budget-friendly, and push-to-open, which are a common choice for minimalist interiors because they remove the need for handles. Our hardware options are designed to suit your lifestyle no matter what kitchen you've got.
It all hinges on this!
Our priority, whether we're discussing hinges or benchtops or colour schemes, is your satisfaction. That's why we've dedicated the past 20 years to designing and building kitchens that make people happy and realise the potential of their homes. No two clients or properties are the same, so, every time we start work on a new  or bathroom makeover, we approach it with fresh ideas. Whether you're after soft close cabinet hinges, or concealed hinges to keep your little ones safe.
Are you wondering whether or not soft close hinges are the best fit for you, your kitchen reno and your budget? Would you like to learn more about them? Don't hesitate to give us a call, send us an email or book a consultation. Wherever your home is in Newcastle or surrounds and whatever your plans, we'd love to find out more.
Kitchens, Bathrooms and Bars Designed With You In Mind
For beautiful kitchens, bathrooms, in-home bars, entertainment areas and custom furniture designed for your specific lifestyle requirements, look no further than Elite Kitchens & Bars.