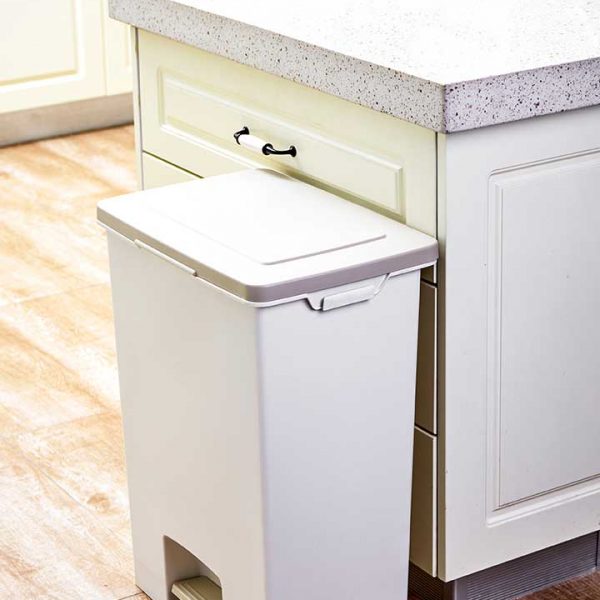 If you dislike slamming lids and worry about jamming fingers, then a soft close bin would be an excellent addition to your kitchen reno. Unlike traditional rubbish bins, the soft-close variety works without a hitch – or a sound. Instead, it opens and closes smoothly, ensuring you don't have to worry about sudden movements or noises. This innovation is enabled by high-tech hinge technology, which has taken numerous kitchen objects and accessories to a whole new level, from kitchen waste bins to pantries to doors. If you'd like to learn more about it, read on or get in touch to organise a conversation with our knowledgeable kitchen design team.
Protecting little hands
We supply and install a variety of soft close bin styles, catering to the needs of a variety of homes and families. Would you like a small soft close pedal bin, that fits neatly beneath your kitchen sink? Are you part of a large, active family and therefore in need of a bigger soft close bin, so you don't have to think about emptying it frequently? Do you require a series of kitchen waste bins, to fulfil various needs, such as recycling, compost and regular household rubbish? Whatever you're contemplating, we can provide it. If you're unsure, then our designers can help you decide. They've been working on kitchens in the area for over twenty years. There isn't much they haven't seen where kitchens are concerned.
Choose your own soft close bin styles and designs
Moreover, a soft close bin is available in a range of materials, styles, shapes and colours, and can be installed in a variety of ways. While some clients prefer theirs to be fitted on high-quality runners, allowing ease-of-access, others requested theirs to be wall-mounted. Either strategy works well, it's just a matter of figuring out what best suits your kitchen and your preferences, when it comes to cooking, eating and dealing with the rubbish.
Do you have any questions about your potential soft close bin? Are you trying to decide between them and traditional bins? Whether you're just curious and keen to organise a kitchen remodelling consultation, don't hesitate to call our friendly staff.
Kitchens, Bathrooms and Bars Designed With You In Mind
For beautiful kitchens, bathrooms, in-home bars, entertainment areas and custom furniture designed for your specific lifestyle requirements, look no further than Elite Kitchens & Bars.