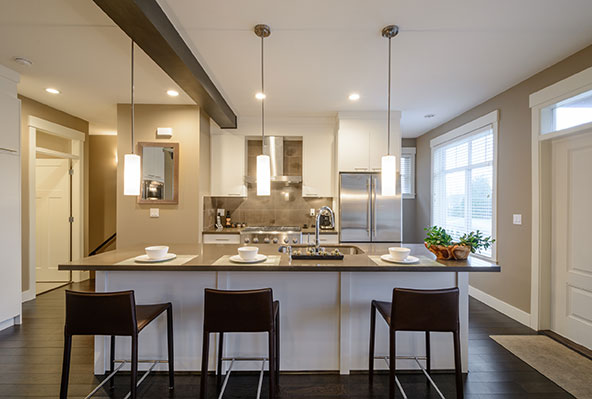 Stylelite is a high-tech material, made in the form of laminated panelling. It is available in one of two finishes: ultra-high gloss doors and velvet matte. Either way, Stylelite can be transformed into beautiful, impeccably finished Stylelite doors – perfect for contemporary kitchens.
Stunning Stylelite doors
We offer Stylelite doors in a variety of stunning colours. These fall into three categories: solid, which includes ruby, carbon and espresso; metallic, which includes champagne, silver and brilliant pearl; and woodgrain, which includes sienna teak, lavato oak and tierra elm. There are many other colours in the range with high gloss acrylic doors stunning in every shade. To find out if there's one to suit your kitchen renovation, give us a call.
Stylelite is also popular for kitchen renos and kitchen makeovers because it's tough. Even after many years, Stylelite doors remain resistant to chipping, cracking and damage. If shallow scratches do occur, they can be fixed with a light polish. Moreover, the material is a smart option for kitchens because it doesn't allow the growth of bacteria. In fact, Stylelite doors are among the most hygienic on the market.
The environmentally friendly choice
If you're concerned about the environmental impact of your kitchen reno, then you might be pleased to know that Stylite is quite eco-friendly. The manufacturing process doesn't involve any polluting emissions and, after use, the material is 100% recyclable. So, if you decide to change your doors down the track, you can rest assured they won't have to go to landfill. In addition, they can help to reduce energy use and costs within the home, being resistant to both moisture and heat. For those that live in areas subject to extreme changes in temperature, Stylelite is a smart choice.
Are you curious about Stylelite doors? To learn more about them, our full range of exceptional doors, or to request a no-strings-attached quote for any aspect of a kitchen reno, contact us.
Kitchens, Bathrooms and Bars Designed With You In Mind
For beautiful kitchens, bathrooms, in-home bars, entertainment areas and custom furniture designed for your specific lifestyle requirements, look no further than Elite Kitchens & Bars.