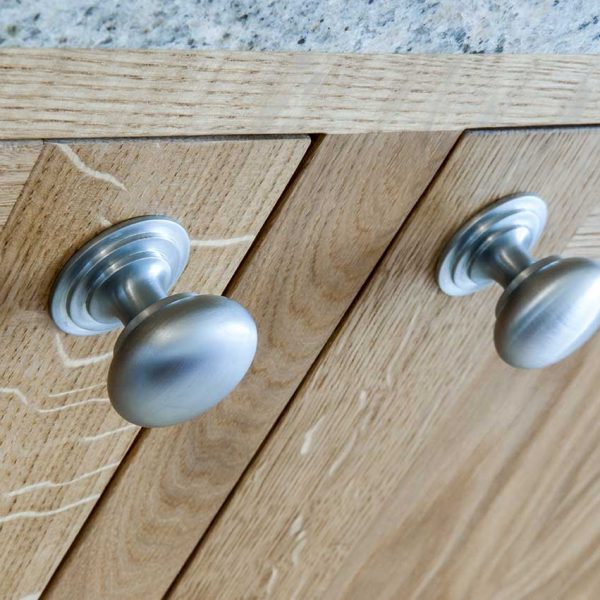 Kitchen handles and drawer pulls might seem like a minor detail, when compared with the major elements of a kitchen renovation. However, it's important to get them right. While some of our clients choose handles that fit in seamlessly with the rest of the design, others opt for those that make a striking contrast, such as bold splash of colour or an unusual pattern. Either way can work, as long as your kitchen is well considered and intelligently designed. You'll be pleased to know that we stock a diverse variety of handles and knobs. Whether you're planning an old-fashioned country kitchen or a modern design, we have the right accessories for you.
Kitchen handles and cabinet knobs of all styles
We stock and supply kitchen handles and drawer pulls in numerous styles. For example, if you're looking for handles for contemporary cupboards, then you might choose sleek, geometrical shapes. But, for a pantry in a Hamptons-style kitchen, you would probably opt for more organic cabinet handles and shapes. Meanwhile, if you're looking for handles or cabinet knobs that are going to attract attention, then you might consider those with elaborate patterns or intricate details. The good news is, whatever you're seeking, you'll be able to find it, there's a staggering array of handles and knobs available, for kitchens, bathrooms and homes of all sorts.
Can you handle the best?
Whatever kitchen cabinet handles you go for, you can rest assured that any handles supplied by Elite Kitchens will be of premium quality. We are passionate about designing, building and installing kitchens that will last for decades, and accessories are an important part of that. We work with only the finest materials and source items from some of the world's leading companies. Work with us, if you're looking for only the best.
In keeping with our outstanding product range, we offer excellent customer service. From the moment you pick up the phone to enquire about kitchen handles to the moment we fit the last one for you, you can count on our friendliness, knowledge, work ethic and expertise. Why not get in touch today?
Kitchens, Bathrooms and Bars Designed With You In Mind
For beautiful kitchens, bathrooms, in-home bars, entertainment areas and custom furniture designed for your specific lifestyle requirements, look no further than Elite Kitchens & Bars.