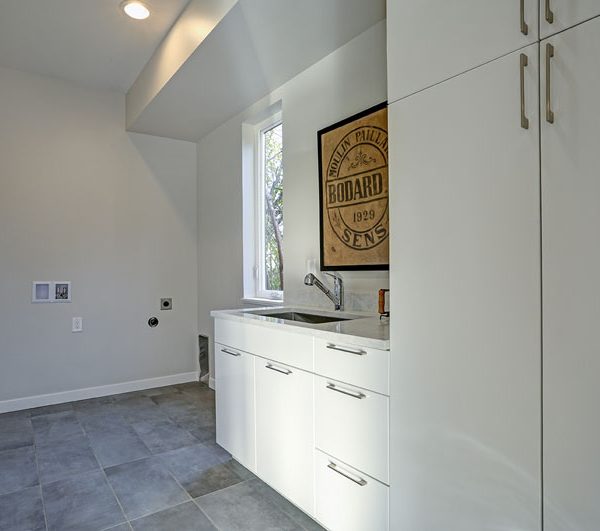 An efficient laundry can make a big difference to daily living. Why struggle in a cramped space with ineffective equipment, when you could be working easily and effortlessly, in a laundry designed just for you? That's where our custom laundry service comes in. We're pleased to say that we've helped hundreds of homeowners to create a life-changing laundry with custom furniture that transforms your living space.
Custom Laundry Solutions
If you've been exploring laundry appliances and designs on the internet lately, you'll know all too well that there's an awful lot of choice. While such choice can be exciting and liberating, it can make custom laundry room planning confusing too. Many people find that, although there are plenty of amazing laundries around, there isn't one that's quite right for them.
In this case, the best solution is to come up with your own – with some professional assistance of course. First of all, you'll need to do some thinking about your existing laundry – or, for a new house, the planned space – and what you can do to make the most of it. Every custom laundry is a unique project. For some clients, the process involves changing everything, from the washing machine and dryer to the tiles. For others, a few changes are enough, like adding laundry room built ins or small laundry room cabinets. The good news is that, when you work with us, you can access expert advice whenever you need it.
Let's design your dream laundry together
Our service covers laundries of every imaginable size, position and style. You're welcome to come to us with a specific brief or a general idea. Either way, we'll help you shape your plan, so that it's watertight across functionally and stunning aesthetical designs.
Discover more about our custom laundry room ideas today by giving us a call or sending us an email. We look forward to helping you design and build your ideal space. Our services also cover kitchen makeovers and kitchen renovations in Newcastle and beyond.
Kitchens, Bathrooms and Bars Designed With You In Mind
For beautiful kitchens, bathrooms, in-home bars, entertainment areas and custom furniture designed for your specific lifestyle requirements, look no further than Elite Kitchens & Bars.