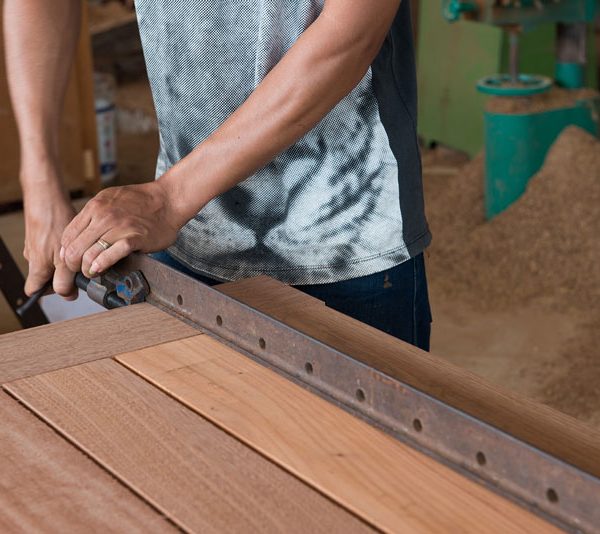 Melamine is an affordable, yet strong and attractive material, which comes in a wide range of colours, patterns and textures. Here at Elite Kitchens, we manufacture melamine doors to an excellent standard, maximising their durability and optimising their appearance. If you're considering Melamine doors, but are unsure whether or not they're right for you, then please get in touch to talk to us. On top of Melamine, we offer doors in a range of materials, including Stylelite, polyurethane, timber, Likewood and Polytec – to name just a few.
Perfect for the harsh Aussie environment
Melamine is made up of paper, resin and wood substrate. These materials are pushed together, then warmed up, in a process that creates a powerful bond. The next step is covering the edges, which involves heating thermoplastic and applying it, to give a smooth, beautiful finish. This stage is crucial, as it can make or break the door's appearance.
There are many advantages to Melamine doors. To begin, they are resistant to moisture and extreme fluctuations in temperatures, which means they are suitable to Australia's unpredictable climate. To that you can add their cost-effectiveness and durability: despite being affordable, Melamine doors last for years and years. A major contributor is their resistance to scratches and damage.
Quality Melamine doors
The quality of Melamine can vary. However, when you order your doors through Elite Kitchens, you don't have to worry. You won't be receiving a cheap plastic door substitute. We use only superior materials and create only exceptional finishes. When designing your doors, you get to choose from a variety of colours: there is one to match every interior, whether you're considering a matte, gloss or textured look. Are you wondering which is right for your kitchen makeover or kitchen reno? Chat to one of our expert designers.
Would you like an obligation-free quote for Melamine doors? Send us an email or jump on the phone and give us a call.
Kitchens, Bathrooms and Bars Designed With You In Mind
For beautiful kitchens, bathrooms, in-home bars, entertainment areas and custom furniture designed for your specific lifestyle requirements, look no further than Elite Kitchens & Bars.