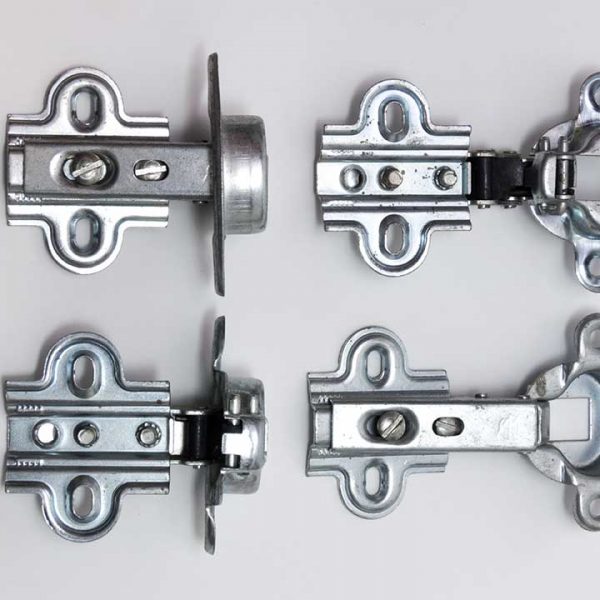 Blum is an internationally-respected company, known for its intelligently-designed, premium-quality, long-lasting kitchen products. We have been working with Blum products for years and have been consistently impressed by their functionality and reliability. Just some of Blum's kitchen accessories include soft close hinges, drawers, and cabinets.
Internationally renowned Blum products
Of all Blum's products, the best known is its range of incredible hinges, which, thanks to their high-tech mechanism, work easily and silently. Get them installed in your kitchen and no longer will you have to worry about slamming doors or jammed fingers – regardless of who is opening and closing the doors. There are hinges for every type of door imaginable, including regular doors and profile doors, as well as those with aluminium frames, those made of glass and those with blind corners. In addition, they are suitable for doors of all heights and thicknesses. Plus, you can decide on the opening angle, depending on the level of access desired.
Blum's runner systems are equally impressive. If you spend a lot of time in your kitchen and expect to use your drawers frequently, then you'll love them. Like the hinges, they're based on the latest developments in technology, which means they're precise, consistent and smooth. They're also made to last, even after years and years of heavy use. We provide custom-designed Blum runners for drawers of any dimensions, design or position.
Flexible. Customised. Reliable.
Beyond runners, Blum makes entire drawer systems. Sophisticated and sleek, Blum drawers are among the finest drawers on the market – anywhere in the world. In fact, it's fair to say they take kitchen drawers to a new level altogether. If you've had enough of clunky, awkward drawers that lack streamlining, get jammed easily and generally drive you mad, then Blum drawers could well be a solution worth investing in.
These are just the tip of the iceberg. Blum also specialises in lift systems, Blum tandembox systems and Blum metabox systems, inner dividing systems and cabine applications. What they all have in common is the ability to make your kitchen a more convenient, functional and beautiful place. For keen chefs, Blum is definitely worth considering. To find out more, contact us today.
Kitchens, Bathrooms and Bars Designed With You In Mind
For beautiful kitchens, bathrooms, in-home bars, entertainment areas and custom furniture designed for your specific lifestyle requirements, look no further than Elite Kitchens & Bars.