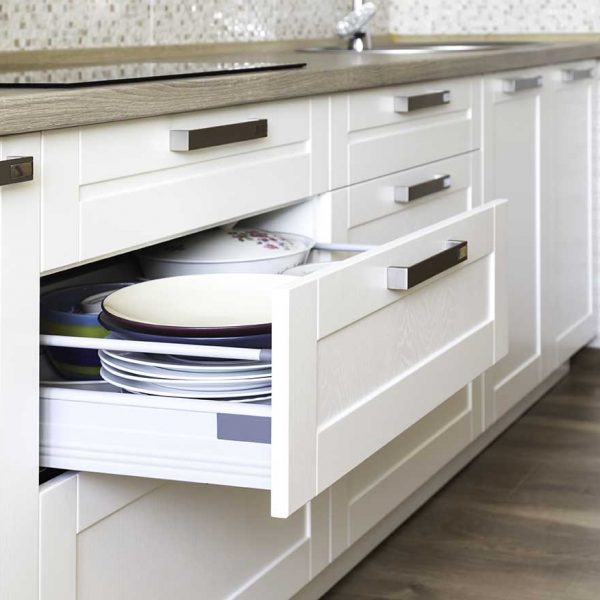 Investing in the services of professional cabinet makers can make a big difference to your home. Custom-designed and built cabinets not only look beautiful, they also ensure that your spaces are well organised. Forget about clutter and cramping, which tend to make daily life incredibly frustrating.
Looking for the best cabinet makers?
We offer premium custom cabinets in a range of materials and styles – to cater to a variety of homes. Would you like a series of timber cupboards, made of gorgeous Australian hardwoods, to enhance your country kitchen renovation? How about a stunning vanity for a contemporary bathroom, fitted with ceramic sinks? Are you considering a tall boy, as an intelligent addition to your laundry? The beauty of custom kitchen cabinets is they reflect whatever you prefer!
To match the lovely materials we work with, we offer a range of premium hardware. This means that you can mix and match, to suit aesthetics – whether you're keen to make a bold statement or prefer subtle colours and textures.
Custom kitchen cabinets made just for you!
Whatever your ideas or vision, our comprehensive cabinet making services can take care of it. As long-time cabinet makers, working in kitchens has been a cornerstone of our business ever since we opened more than two decades ago. We are here for every stage of the process – from planning and design to construction and installation. Our brilliant builders have had extensive experience working in a range of spaces, both indoors and outdoors. Whether you need to add an al fresco entertaining area to your barbecue, extra drawers to your kitchen pantry or shelves to your bathroom, give us a call.
As experienced cabinet makers, we're happy to offer advice, too. So, if you have some vague ideas about cabinet making for your home, but aren't sure about how to execute them, then you're welcome to talk through them with our team. We've been working on bathrooms and kitchen renovations in Newcastle, the Hunter Valley and surrounds for such a long time: we're very familiar with local tastes, lifestyles and architecture. What's more, we love challenges and coming up with intelligent solutions for unusual spaces.
To discover more about our custom cabinetry services, please call or email us today.
Kitchens, Bathrooms and Bars Designed With You In Mind
For beautiful kitchens, bathrooms, in-home bars, entertainment areas and custom furniture designed for your specific lifestyle requirements, look no further than Elite Kitchens & Bars.