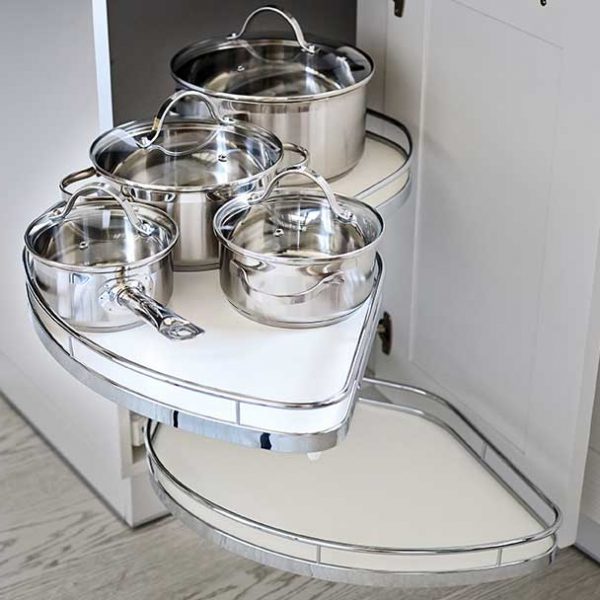 Storage plays a vital role in intelligent kitchen design. After all, without adequate storage space, you're likely to find yourself in a continual battle against chaos. However, if there's room for everything and you know exactly where to find what you want, then your kitchen will be relaxed and efficient – a place that makes cooking, eating and socialising a pleasure. And that's why an effective corner storage system is so important. Corner cabinet solutions ensure that every single section of your kitchen is well utilised. Here at Elite Kitchens, we design, build and install a range of outstanding corner storage system styles and designs.
Which corner storage system is right for you?
The first step in working out which corner storage system is best for you is determining its function. Will you be using it to store pots and pans? What about cleaning products? Would you like it to be versatile, so you can use it for one function next year and another, the year after that? Your answers will determine the size, shape and style of your corner storage system. While some feature a variety of spaces, catering to a range of objects, others are dedicated to small or medium-sized items only. The advantage of ordering custom-designed kitchen corner units is that you can ensure it's built to suit your needs.
We've cornered the market
You'll also need to think about structure and features. Given the many advancements in kitchen design that have occurred over the past few years, there's an amazing array of options. Some corner cabinet systems have extendable shelves, so they're easy to reach and, when in use, create extra external space. Others have revolving trays so that, rather than reaching into awkward spots, you can get what you want easily and quickly. Other possibilities include shelves, drawers and compartments. Why not browse our rage of wireware storage solutions too?
When making these and other decisions, you can take advantage of the knowledge, expertise and experience of our brilliant designers. With more than years of time in the industry behind them, they've worked on kitchens of all kinds and scope. To organise a consultation for a kitchen reno or enquire about corner kitchen cabinet system, jump on the phone today.
Kitchens, Bathrooms and Bars Designed With You In Mind
For beautiful kitchens, bathrooms, in-home bars, entertainment areas and custom furniture designed for your specific lifestyle requirements, look no further than Elite Kitchens & Bars.