Hamptons Style Kitchen Designs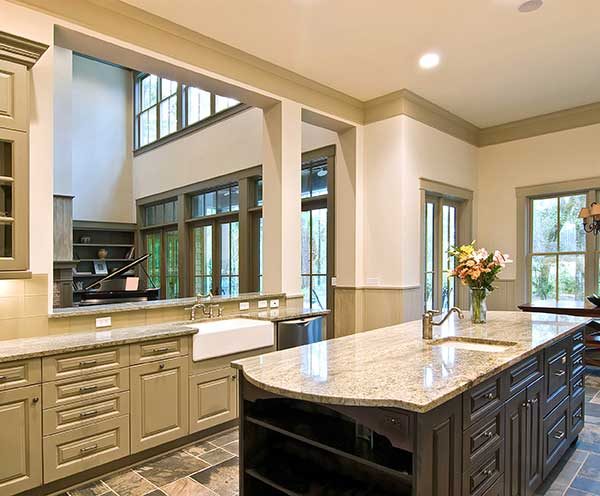 Famous all over the world, the Hamptons style kitchen represents a lifestyle that's coastal and relaxed, yet sophisticated and discerning. The name comes from The Hamptons, a collection of villages found on the eastern shore of Long Island, New York State, which is a popular holiday spot for the rich and famous, dotted with multi-million dollar estates. Hampton style kitchen designs are characterised by elegant architecture, high-quality natural materials and an abundance of light. The colour palette usually features white and woodgrain.
Enjoy your own opulent Hamptons style kitchen
When designing a Hamptons style kitchen, the architecture is a good place to start. Traditionally, the design is best suited to rooms with classic features, such as timber flooring, pitched ceilings and windows that let in loads of sunshine. However, if your home doesn't possess such features, we can find ways of working around them. If you're dreaming of a Hamptons style kitchen, but are unsure of whether or not it'd work in your house, let our designers drop by and help you decide.
The next element to think about is the colour scheme. White is usually the dominant colour; however, it's possible to add light accents. Blues, greens and greys are popular, as they are reminiscent of the sea, and are sometimes used for cupboards and benchtops. When it comes to flooring, some clients opt for whitewashed timber, while others prefer the contrast created by dark wood, often accompanied by timber benchtops.
It's the little things that count
What about all the finer details? When it comes to splashbacks, ceramic tiling is a common choice, for its refined appearance. But that doesn't mean you can't get creative and consider other materials, such as glass, mirror or even tasteful photography. As for choosing your Hampton style kitchen designs and accessories, the trick is to ensure, firstly, that they blend in seamlessly and, secondly, that they don't cause clutter, thereby taking away from the elegant atmosphere. Think bentwood stools, cane armchairs and ceramic vases holding greenery. Another fun possibility is to add objects linked to a coastal lifestyle – even if you do live a long way from the beach.
Learn more about your own Hamptons style kitchen today by dropping by our office or getting in touch.
Kitchens, Bathrooms and Bars Designed With You In Mind
For beautiful kitchens, bathrooms, in-home bars, entertainment areas and custom furniture designed for your specific lifestyle requirements, look no further than Elite Kitchens & Bars.