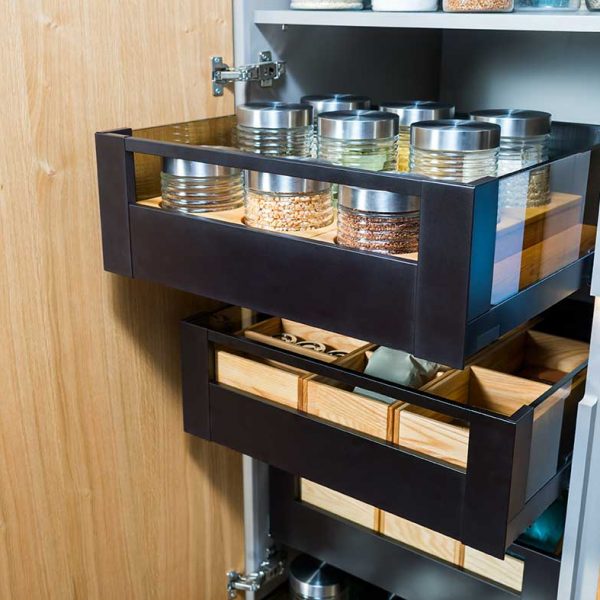 Of all storage elements in a kitchen renovation, the pantry should be the easiest to access. It's the one that you'll be using the most often, whether you're grabbing a quick snack, finding nibblies for unexpected guests or putting together the weekly shopping list. You should be able to get to what you need without any awkward reaching or shuffling through piles of disorganised items. For these reasons, a slide out pantry is often the best option. It's designed to open and close with ease, and, when designed well, offers plenty of impeccably organised storage space.
Innovative slide out pantry solutions
Pull out pantry shelves are set apart by their access mechanism. Every object can be reached by the single movement of a runner. There are no dark, cluttered spots or distant, inaccessible corners. So, whether you need the packet of flour you were using yesterday or an obscure spice you haven't used for months, sliding shelves ensure you can get to it without any hassle. In fact, it's safe to say that, once you've used a slide-out pantry, you'll find it pretty difficult to go back to the traditional kind.
Family friendly and safe
We supply and install a diverse variety of slide out pantry styles. There's one in our range of accessories for every kitchen renovation, from small kitchens in apartments where space is limited, to expansive kitchens in large houses where there's plenty of room to move. What all our pull out pantry shelves have in common is there premium quality and their excellent design. All of them are equipped with reliable runners that move silently and efficiently, as well as sturdy baskets. Pull out drawers for pantry are designed to carry heavy loads without breaking down or wear out. When installing our slide out pantry designs, we make sure that they're adjusted to meet your height and lifestyle requirements.
Are you wondering if a slide out pantry is right for you? Would you like to learn more about how they work? We're happy to chat and provide you with tips anytime. All you have to do is give us a call.
Kitchens, Bathrooms and Bars Designed With You In Mind
For beautiful kitchens, bathrooms, in-home bars, entertainment areas and custom furniture designed for your specific lifestyle requirements, look no further than Elite Kitchens & Bars.