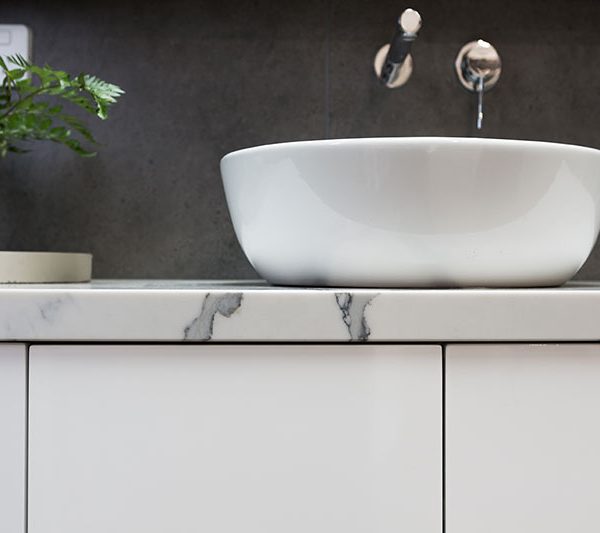 Choosing a bathroom vanity can be difficult. The market is absolutely flooded with choice, in terms of styles, sizes and materials. Have you been searching and searching, only to become more and more confused? Let your frustration stop here. Rather than endlessly looking for the bathroom vanity units that are right for you, why not design your own?
Stunning custom bathroom vanities
Our custom bathroom vanities give you the keys to creativity. With our assistance, you can have a vanity that's created for you and with you – with your home in mind. Would you like a minimal vanity, that will fit into a tiny room without cramping your style? How about a stunning vanity for a spacious bathroom, to suit the needs of various family members? Do you prefer rustic bathroom vanities with drawers or cupboards or both? We make custom furniture to suit every bathroom.
There are so many custom vanity decisions to make. Once you've decided on size and basic structure, you might like to think about other details, such as basins, faucets and drawer handles. While some of our clients go for a classic feel, others prefer more contemporary custom vanity tops.
Then, of course, there are materials to consider. We work with the entire spectrum – from timber, including plywoods and hardwoods, to marble and natural stone, to branded materials, such as Caesarstone and Laminex Freestyle.
Creative Newcastle vanity solutions
Whether you have a clear, detailed custom bath vanity plan ready to go or a vague idea to work on, we can help. We pride ourselves on developing close relationships with our clients, allowing you to express possibilities and play a role in the design process. That way you can rest assured that when your vanity reaches your home, it'll be exactly as it should be.
Would you like to learn more? If you're curious about our custom bathroom vanities or another of our services, such as kitchen renos and kitchen makeovers, please don't hesitate to contact us.
Kitchens, Bathrooms and Bars Designed With You In Mind
For beautiful kitchens, bathrooms, in-home bars, entertainment areas and custom furniture designed for your specific lifestyle requirements, look no further than Elite Kitchens & Bars.